With Christmas rapidly approaching, there never seems to be enough time to get everything done, and if you're like me, everything takes 2 -3  times longer than anticipated. I thought I had it all figured out this year by doing the vast majority of my shopping online. As an Amazon Prime member, I get free shipping, and thus, at no additional cost, I avoided circling the mall parking lot, aimlessly wandering to find the perfect gift, debating about which gift is the perfect one, and then waiting in a long line to purchase it. Online shopping definitely saved me time, and likely a quite bit of frustration, but somehow the hustle and bustle remained.
One thing that I was determined not to let slip through the cracks despite my tight schedule was Christmas cards. I've meant to do them for the past two years, but never got around to it.  Two years ago, I planned to use a wedding photo, and last year a photo from my honeymoon in Thailand (which being 6 months later was in 2012). This year, I finally made it happen. It was not easy, and the cards may actually not arrive until after Christmas, but today, simply getting them sent is a win.
The first struggle during my Christmas card fiasco was taking the photo. My husband set a tripod facing our Christmas tree while I tried to get the dog to pose. She could tell we were up to something, and she didn't like it. Suddenly, this normally cuddle-happy dog would not stay seated on my lap. In that moment, I was untrustable and she wanted down! It was hilarious, my husband pressing the camera's timer button and rushing to sit down, while I tried to look natural holding a squirming puppy. I decided to wrap her in a blanket, hoping that may comfort her and calm her down. After three or four takes, and the dog becoming increasingly restless, we decided to use the best of the bunch – with the hope that fellow dog owners may get a kick out of the imperfection.
The next struggle was ordering the photos on Shutterfly, after manually adding all of the addresses,  I attempted to order 50 cards – one to each person. Somehow the website was registering my order as 50 cards per person at a cost of over $1,000. I could not figure out how to fix it, so the next morning, I called Shutterfly's customer service line.  Evidently I was not the only last minute card sender having technical difficulties; the estimated wait time was 57 minutes! Luckily, they had the option of leaving a call back number and have a customer service representative call back. I took advantage of this option and the pleasant woman fixed my order. Victory was mine – cards were ordered and en-route!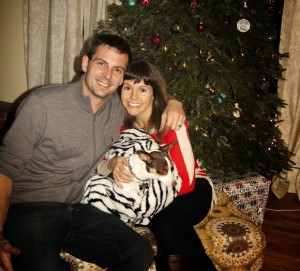 I love receiving cards and sending them felt good. My hope was that receiving my silly card, may brighten a few people's day during this fun and chaos filled season! Christmas cards always remind me of the most important part of the holiday season, connecting with the friends and family that you love. They are a great way to say show loved ones that you're thinking of them.
Next year, my goal is to review my address list in advance and collect any missing ones.  A few people who would have otherwise  received a card, did not, simply because I didn't know their address off hand and didn't have time to wait for their response if I requested updated addresses. If you're in that group, sorry! With any luck you'll get one next year! In the meantime, Merry Christmas to all, and to all a good night!