My win is making it safely across the country today – thanks to the kindness of Erin, a generous employee of Southwest Airlines! As embarrassing as it is, I showed up at the airport a day before my scheduled flight. Evidently, the email that I saved, thinking it was my flight confirmation, was in fact information about an alternate flight that I'd considered booking, before actually booking a flight for tomorrow! You can imagine my shock when I was informed of this at the ticket counter this afternoon.
After pulling up the actual confirmation that listed tomorrow's date on his phone, and deservedly teasing me a bit about my mistake, my husband was ready to simply go home and return to the airport the next day. I, on the other hand, knew we needed to travel today, since his family had planned a surprise birthday party for him –happening tomorrow. I offered to attempt to find an alternate flight while he waited outside. Once he was out of earshot, I explained my predicament about the surprise party to Erin. She immediately began looking, and after ten minutes of searching three different airports in New England, she was able to find us a flight. Still, two problems remained: there was an $800 price difference, and the new flight was already on its final boarding call. As Erin was explaining this to me, my husband had returned. Understandably, he thought I was crazy for even considering this alternative when we "had no plans for tomorrow" and could easily just take our scheduled flight. At this point, I had no choice but to admit to him that we did have plans for tomorrow.
With my husband in agreement, and no time to spare, Erin took action. She changed our reservation, rushed our bags, escorted us to the front of the security line, and even somehow waived the difference in cost. I am grateful for, and impressed by, her willingness to go above and beyond to help us! Erin could have easily reminded me that it was my mistake and sent me home. Instead, she went out of her way to help get my husband and I on board. Erin's actions have made me a Southwest customer for life.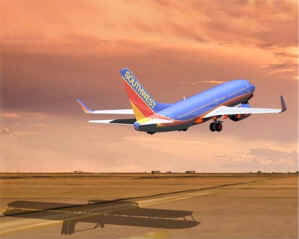 I have also learned my lesson about "saving" a flight I am considering booking.  Word to the wise, don't do it, or you just might end up at the airport on the wrong day!