I am not sure what good deed I did in another life to somehow end up with such a well-behaved and loving puppy! I honestly feel like I won the puppy lottery! Norey is friendly, doesn't bark excessively, doesn't chew up clothing or furniture, is housebroken and comes when called about 90% of the time.  All of this, despite my husband and I being her third owners in the short 6 months she's been alive. When she was just a few weeks old, Norey wandered into her previous owner, Rachel's yard. She was underweight and had a broken tail. Rachel nursed her to health and plastered the neighborhood with lost dog signs, but no one ever came to claim her. Rachel trained Norey well and loved her, but being a recent college grad without a full time job, couldn't afford to keep her. After having her for a few months she selflessly put an ad on Craigslist with the hope of finding a nice permanent home for Norey. About 5 minutes later, my husband responded to the ad and set up a time to go meet her. Within moments of meeting her, we knew that she was the right dog for us.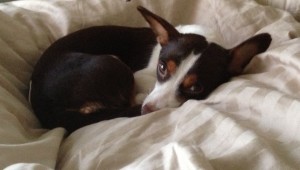 My husband has wanted a dog (or better yet two) for the past several years. I, on the other hand, wanted to wait until the timing was right. When he first started talking about getting a dog, we lived in a condo complex that did not allow dogs. Despite my husband suggesting that we simply ignore the rule, or certify the dog as a service dog in order to negate the rule, I said no. His wanting a dog, and my hesitancy with getting one before the timing was right became a joke among our family. His aunt even purchased dog supplies for him as a Christmas gift last year, with the hope that I would give in…but I stood my ground. In addition to the "no dog" rule, our condo was on the third story and had only a very small balcony of outdoor space. I thought it was mean to raise a dog without any place to run around (and had nightmares of running down three flights of stairs with a dog in order to avoid accidents while trying to house-train it).  My husband ultimately agreed that it would be in our future dog's best interest to have a yard.
Since we purchased a house with a yard a few months ago, the pressure has been strong. My husband was ready, but I wanted to settle in and finish some of our renovation projects before taking the leap into puppy parenthood. As most of the major projects came to a close, I cited our upcoming vacation as a reason to hold off. Once the yard was in place, major renovations done, and vacation over, I decided I was as ready as I'd ever be, and agreed to begin looking.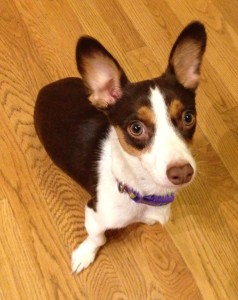 In our many prior conversations about dogs, my husband and I had agreed that we wanted a medium sized dog, we'd prefer to rescue it and we'd love it to be at least part corgi. Little did I know, my husband had alerts set on his phone for corgi puppies months prior, and had yet to see any rescues that fit the criteria. Once I found out about this, the 5 minute response time to Rachel's ad, giving away a corgi dachshund puppy, made sense.
We couldn't have planned it better if we'd tried. She is the perfect dog for us, and has quickly quelled all of the hesitation that I'd had about getting a puppy. I worried that a puppy would ruin the hard work we'd put into our home and garden, take away the freedom that we'd had to travel or annoy our neighbors by constantly barking when left alone. Thus far, she's done none of this (knock on wood she doesn't suddenly pick up these bad habits).
Sometimes life hands you a pleasant surprise and makes you realize that all of your worrying has been unwarranted; this was one of those times.  My win is being proven wrong by my new four legged friend.